The campaigns tab shows you information about activated campaigns. Already in the tab names you can see the number of active campaigns in brackets: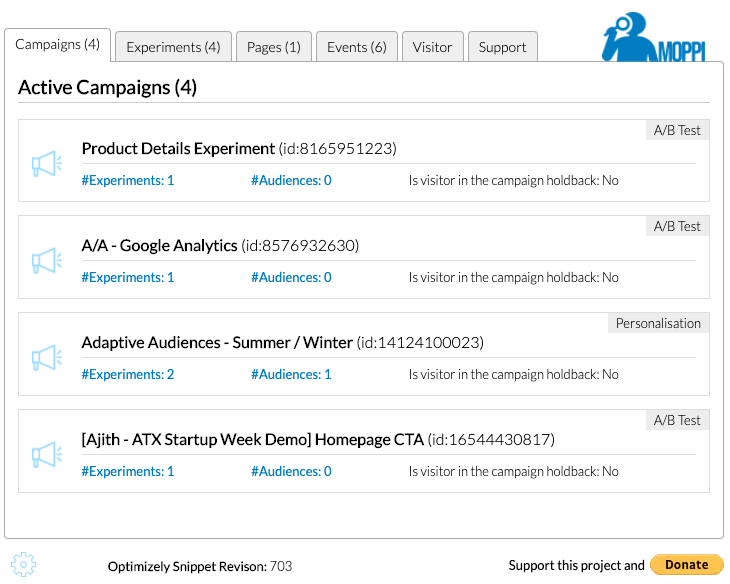 Each activated campaign has its own framed block and you can also quickly identify campaigns by their own icons.
Since I haven't had time to update these screenshots yet, you don't see the copy symbol below the MOPPI logo here yet. By clicking on it, all data visible in this tab will be copied to the clipboard, so that you can have your colleagues send them to you, e.g. if questions or problems arise.
In a block for each campaign you will find the following information
First, in bold, the name of the campaign. In the case of an A/B test, this is the name of the test; if it is a personalization campaign, it is its name.
In brackets behind it you will find the internal Optimizely Id of the campaign.
In the upper right corner you will see what kind of campaign it is: Personalization or A/B test
In the lower part you will then find some detailed information.
On the far left is the number of experiments in this campaign. For A/B tests it is always exactly one experiment, but for personalization campaigns it can be more.
After that you will find the defined audiences for the campaign. This value is always 0 if no special audiences have been defined.
After that you can see if the user was assigned to the holdback for the campaign or not.
Details about the experiments
By clicking on the experiments link, further information about the experiments of this campaign will open
For each experiment within the campaign you will be shown which Id and name the experiments in that campaign have.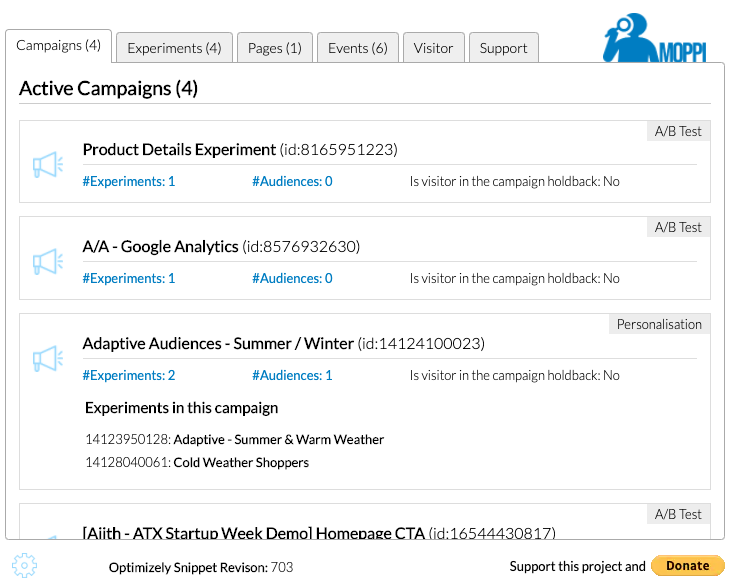 As you can see in this screen, the number of experiments in a perosnalization campaign can be greater than one.
Details about the audiences
A click on the audiences link opens further information about the audiences in the campaign: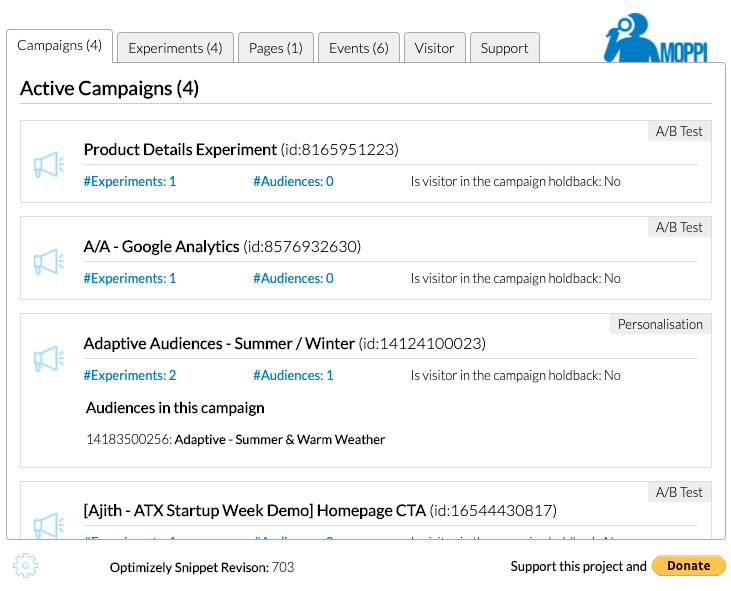 As long as no special audience has been defined, the number of audience is always zero. This means that all visitors will in principle participate in the campaign.
If the number is greater than zero, one or more audiences have been defined, for which you can then see the ID and name of the audience.